Disposable protective face masks are an integral part of many peoples lives around the world and a fundamental first line of defence against the spread of respiratory transmitted diseases.
The covid pandemic has increased their use exponentially and face masks are likely to remain a part of our everyday lives for many years to come. A study from 2021 indicates that we use an astounding 12.9 billion face masks a month or roughly 3 million a minute.
The vast majority of face masks are discarded with an estimated 75% heading to landfill or littering our oceans, countryside and urban areas. Seeing discarded mask waste is now common in all locations around the world and its impact on the environment is significant.
Researchers from University College London estimate that if eligible, every person in the UK used just one single use mask each day for a year it would generate 66,000 tonnes of plastic waste alone.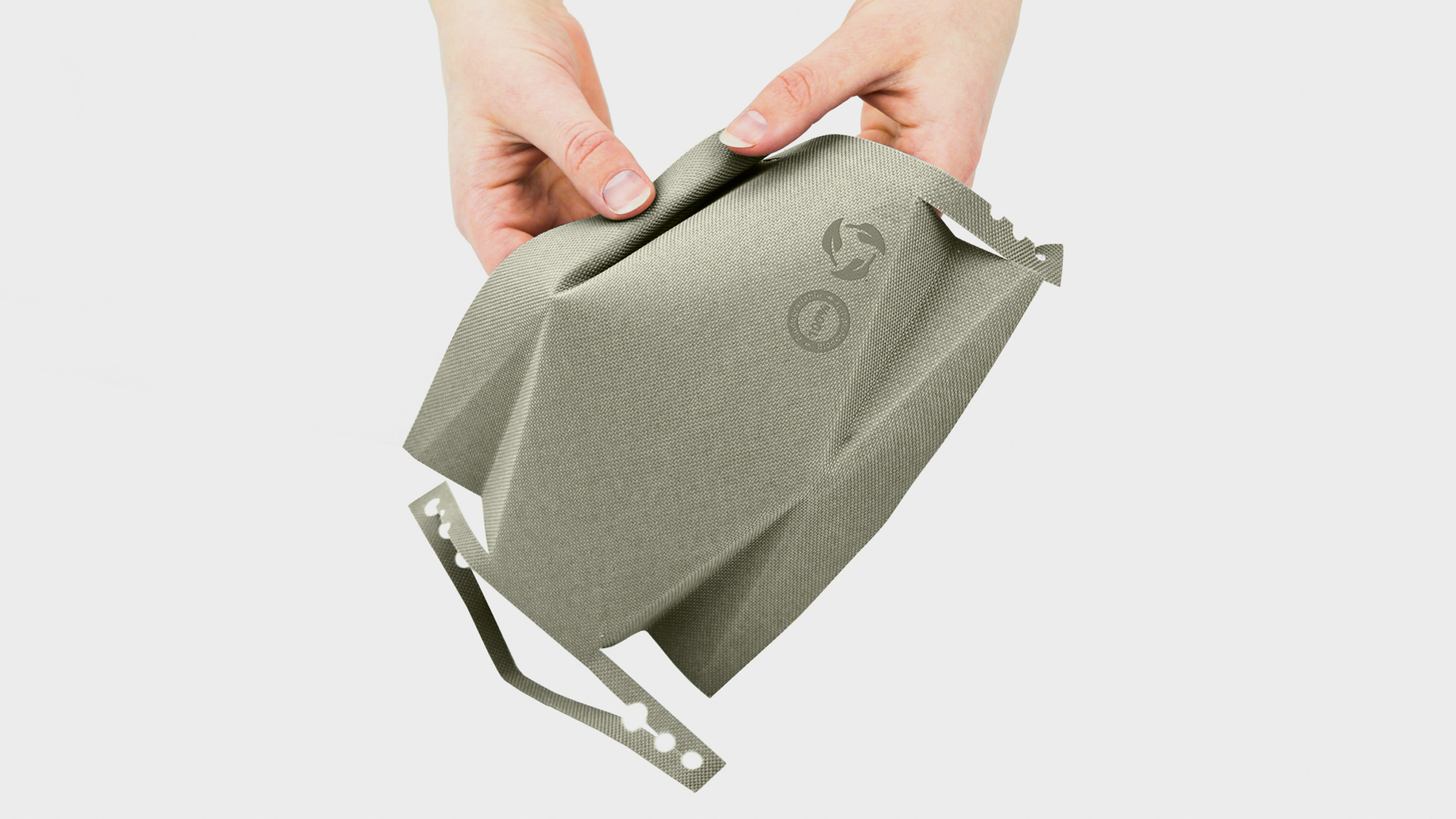 Current disposable face masks are made of polypropylene and metal and taking up to 450 years to decompose, releasing over 170 million microfibres and particles in the process. Protection without environmental damage is an essential goal if we are to combat future pandemics successfully without doing significant environmental damage in the process.
UMIKO is a protective face mask designed for high-volume, low-cost production using an innovative, fully sustainable sea algae-based material that fully breaks down in water within seven days of disposal with no residual impact.
It is based on an innovative material that utilises sea algae and kelp harvested sustainably to produce a fibre that can be spun and woven with ease into flat sheets. Critically the material leaves no toxic residue, does no harm to marine or animal life nor emits any lasting micro particulates. The material properties can be modified using levels of extracted polysaccharides tailoring the degree of material solubility in water. This is designed to allow high humidity use without degradation for up to 48 hours but will completely dissolve in one week or within 5 – 6 hours when submerged.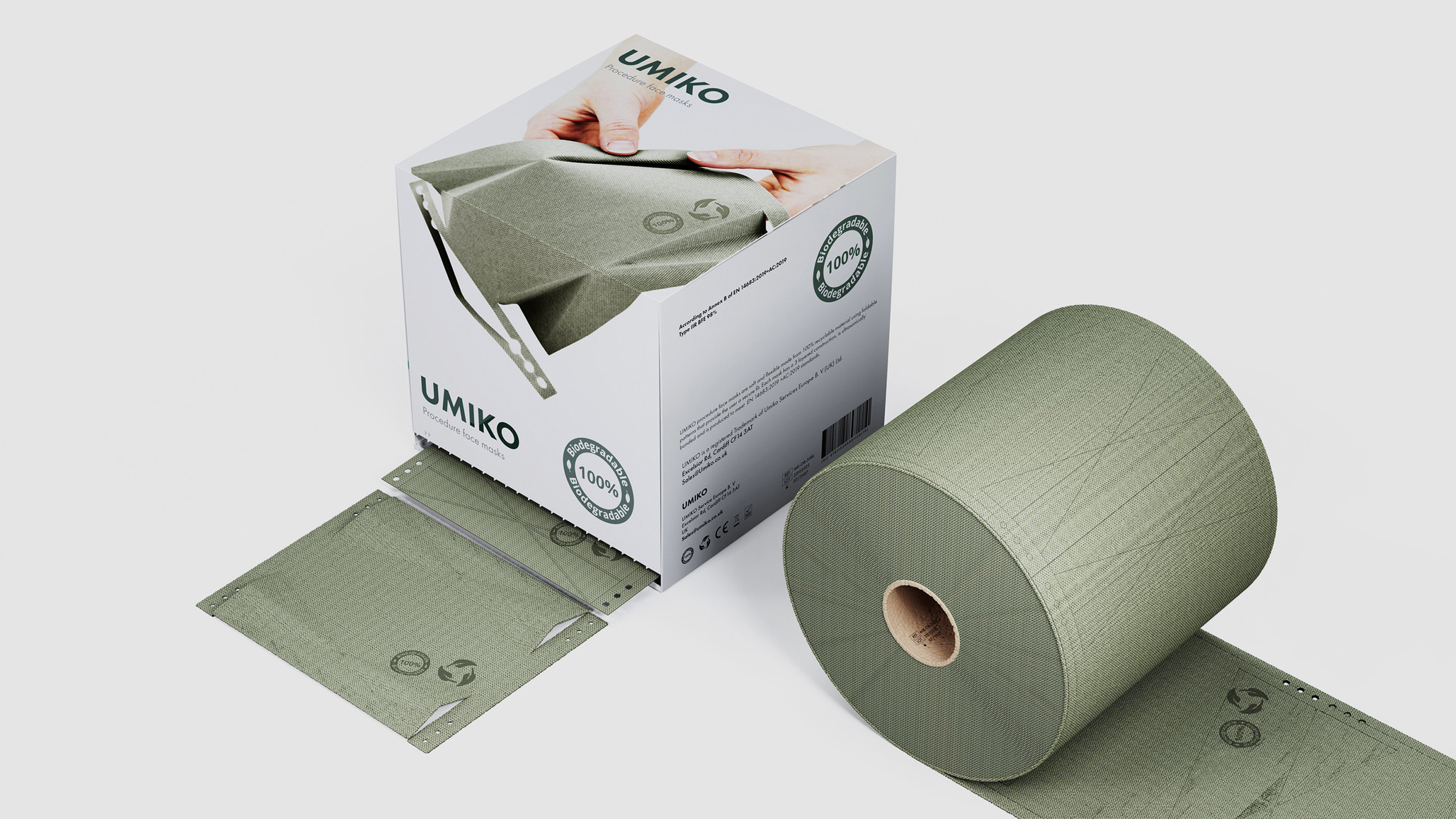 It is critical that disposable masks are available to all and the woven and spun flat sheet material can be produced at high volume with sufficient filtration properties to act as an effective safeguard against viral borne transmissions.
Adopting high-speed low-cost manufacturing from the paper and packaging industries, the UMIKO is designed to be folded from a single flat piece of material. Die-cut masks minimise production costs and minimise size and weight for distribution and transport.
Supplied in bulk as a stack of flat sheets, individual masks can be quickly formed up and fitted to a user's face with minimal waste and effort.
Masks are designed to be light and comfortable with a degree of filtration and breathability similar to existing N95 masks. Adjustability over the bridge of the nose and face come from inherent malleability of the material whilst cleverly designed loops ensure a tight fit around the ears.
UMIKO provides a unique solution to a significant environmental problem in disposable face mask use. New approaches to materials and processes when combined with existing high-volume manufacturing and simple flat to form design solutions can align functional, usability and environmental demands.
To develop a face mask that provides the protection required without causing the environmental damage created by current polypropylene masks, is a fundamental design challenge typical of the need to move to a more sustainable model of design.