Mapping the Customer Experience
Kenwood
Finding insight backed opportunities to improve the customer experience of buying a Kenwood product.
Kenwood, a true household name in British kitchens, has been designing and manufacturing quality kitchen appliances since 1947. To better understand why and how people bought their products they asked us to map the customer experience of purchasing its kitchen products, to identify opportunities for innovation.
UNDERSTANDING THE CURRENT MARKET

We worked with Kenwood to identify their core customer demographics and competitors in the product range. We used this data to create an online survey for representative customers, collecting broad data about how people shopped for these products. Based on the survey results we 'mystery shopped' department and electronics stores, asking staff common consumer questions to understand how the in-store experience influenced purchase decisions.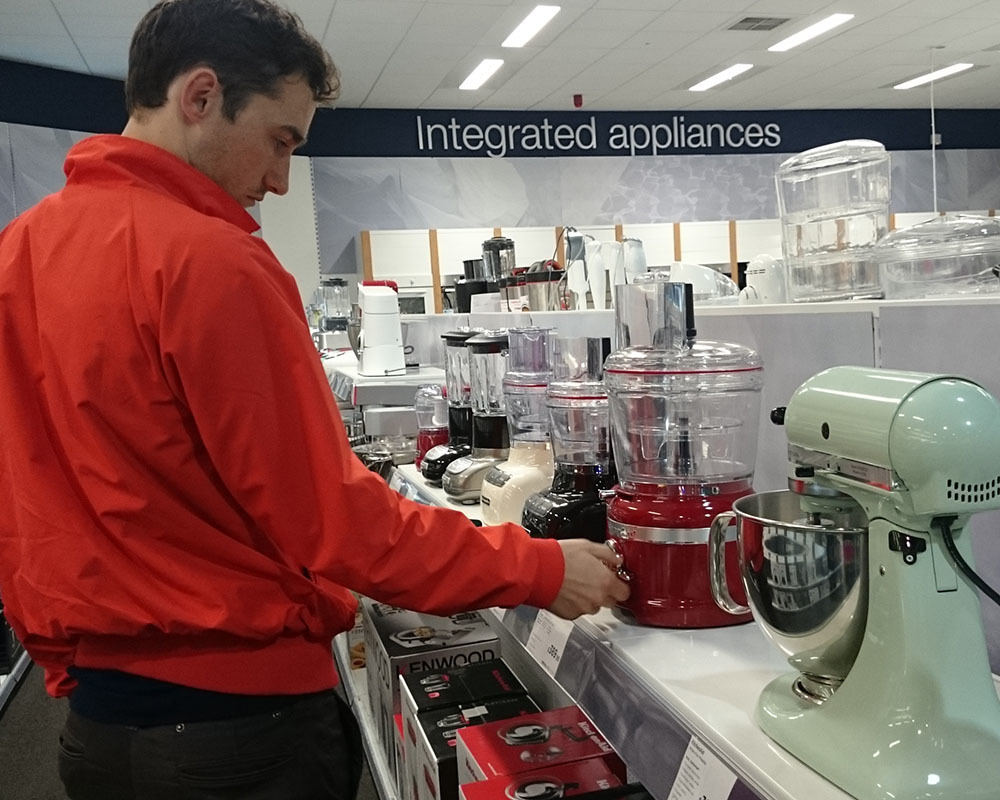 IDENTIFYING PRODUCT TOUCHPOINTS

We set up an 'in-store' environment within our Observation Lab and asked prospective customers to assess Kenwood and competitor products against their own needs to uncover how physical design, materials, and features influenced their decision making. Seeing how much they physically interacted with the products to assess quality, we then coded their behaviours to find the most common product touchpoints.

OBSERVING THE PRODUCTS IN USE

Initial research showed consumers had certain expectations of their products, but reviews and returns data told us that they weren't always happy. We delivered products to consumers, observed them opening and using it for the first time to capture the experience. We uncovered rich insight on how they used, cleaned and stored the products, what frustrated them and how well the products met their expectations.

CONCEPT CREATION
This research was visualised by a large customer journey map, which detailed each stage and touch-point of a user's journey from initial need identification through to first use and storage. Key insights discovered in the research studies were translated into proposed product and service design concepts, as well as other opportunity areas highlighted for Kenwood to enhance the customer experience of its kitchen products.
Working with PDR was a great experience and the output of the work is still being used today when defining new products at Kenwood

Innovation Manager | Kenwood Limited