Brace Packaging
R&D Surgical
Packaging with purpose. Our award winning solution for the Brace device.
BRACE
Millions of children worldwide suffer from pectus carinatum (typically known as pigeon chest). Treatment for this condition involves extended compression of the breastbone to allow correct alignment. Traditionally, this involves frequent clinical setting visits and the use of highly obstructive, uncomfortable devices. Doing so exaggerates anxiety for the patient whilst placing considerable strain upon healthcare services. Brace is a new revolutionary design that replaces outdated, stigmatising procedures with a new approach to treatment that is aligned and sympathetic to teenage needs.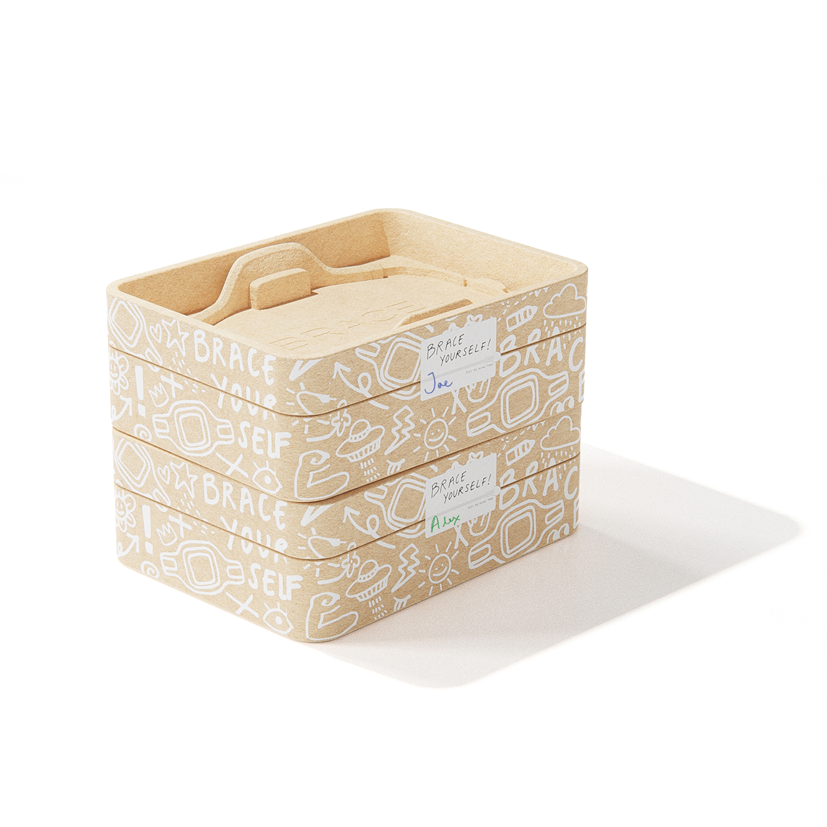 PURPOSEFUL PACKAGING
Rather than merely serving to safeguard and deliver the product, Brace's packaging is designed to play an essential, functional role in a new approach to clinical care. By placing the experience of young patients at the heart of the design philosophy, it provides a more personalised, appropriate service for users in the comfort of their own home.  
USER-CENTRED
Following an initial consultation and measurement, the patient's unique Brace packaging arrives via standard post. It supports a step-by-step user-centred patient journey to ensure a convenient setup, with instructions pre-marked on the package to help initiate an appointed mobile phone contact with a clinician to support first time fit and use. Brace packaging is 100% pulp-based, and upon completion is fully recyclable.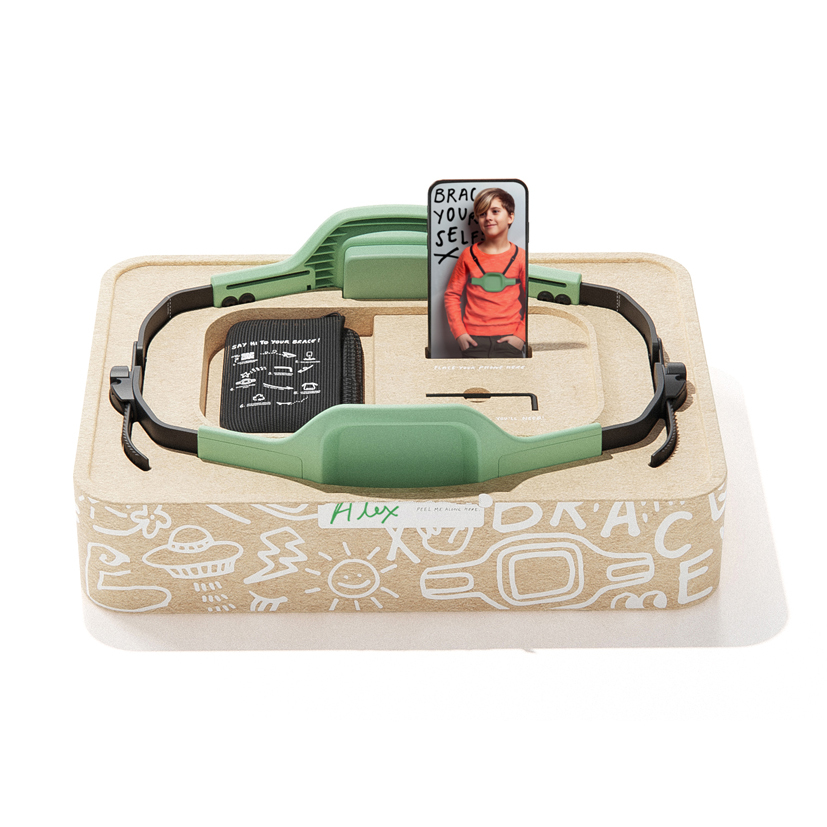 AESTHETIC PACKAGING
The packaging aesthetic is deliberately aimed to break away from those of traditional medical devices. The use of paper pulp and a clean, simple print design is reflective of contemporary consumer packaging and echoes the high-quality, responsible and innovative nature of the Brace unit itself. Environmental benefits go beyond the obvious fully recyclable single stream packaging solution to also include a reduction of journey volumes and energy use throughout the treatment process.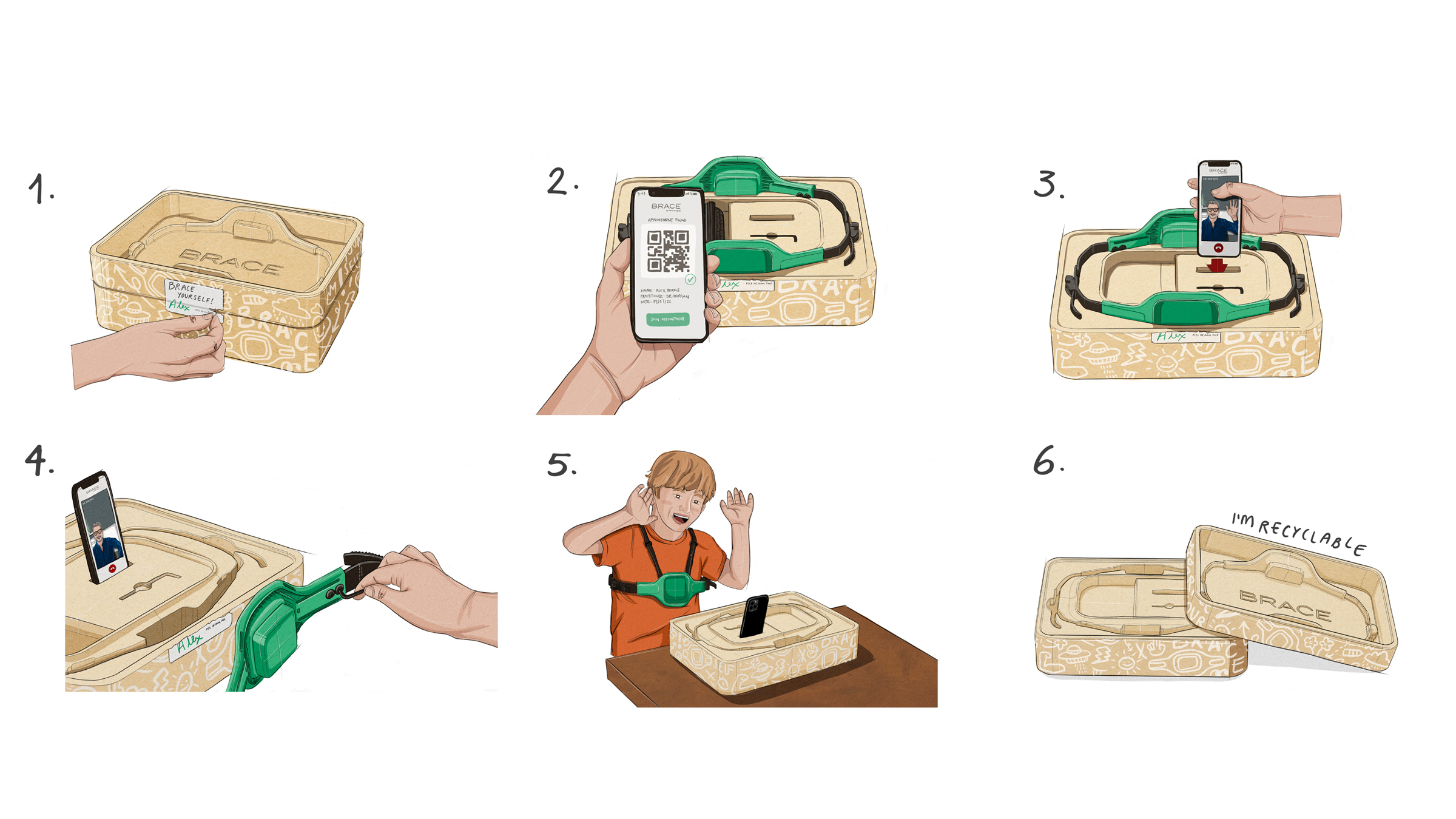 AWARD WINNING
Following on from initial positive reviews from trial, the Brace packaging has received an iF Design award and a Green Good Design award in 2023, both prestigious industry benchmarks of design quality. Its approach has been commended for its potential to substantially reduce demand on healthcare resources, increasing patients that can be seen by each clinician daily by an estimated 20%. This, in addition to its offer to positively impact both patient experience and the environment, helps it stand out from traditional clinical experiences as a truly modern approach to pectus carinatum treatment.