CoolSculpting Elite
Allergan
CoolSculpting technology uses a process known as cryolipolysis. CoolSculpting works by cooling targeted fat cells in the body to induce a natural, controlled elimination of fat cells, removing fat permanently from the body without the need for invasive surgery. Whilst they remained the industry leader, established in clinics around the world the core product was old and competition was increasing rapidly.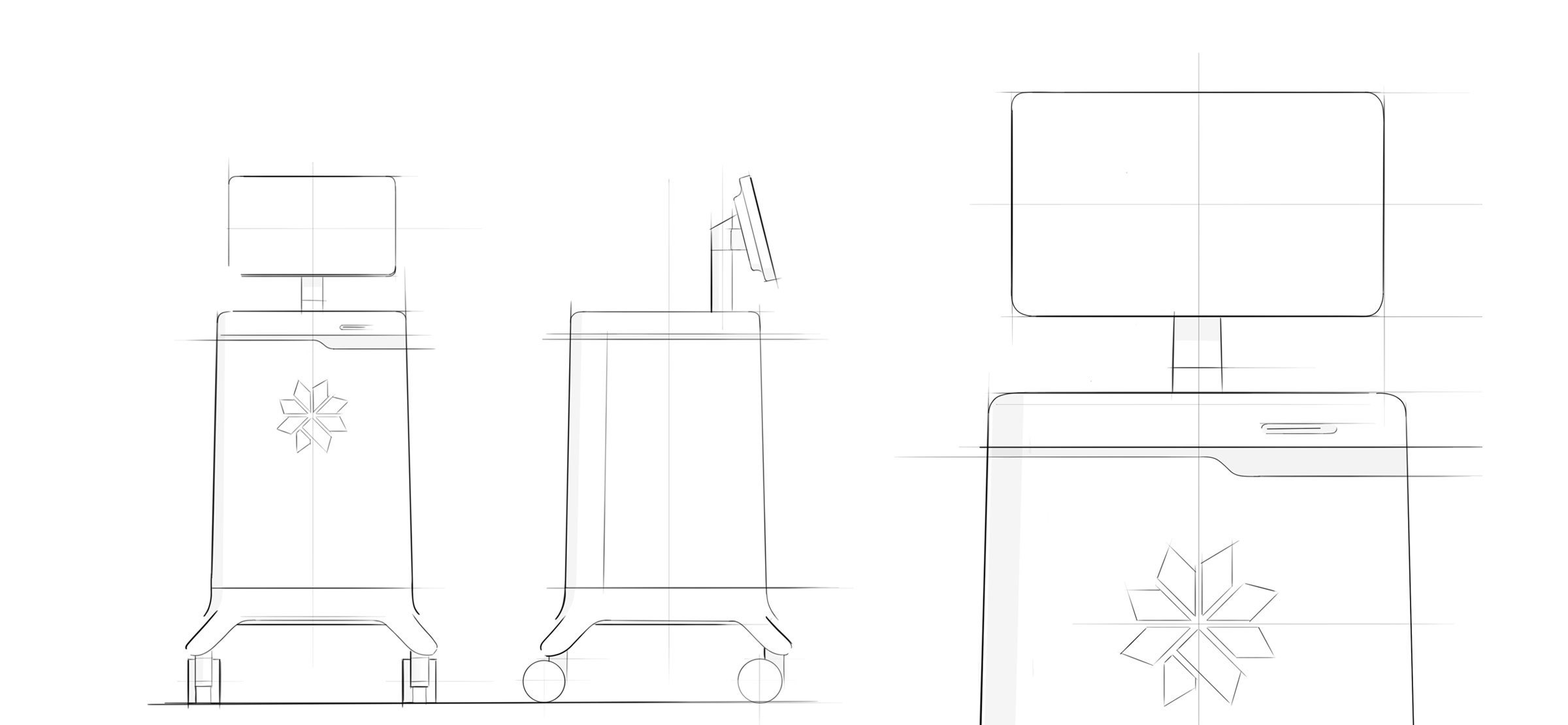 The challenge of defining and developing the next generation platform was approached with a strong patient and customer centric perspective. An extensive research and understanding program across customers, patients and CoolSculpting staff globally was undertaken. Observational work, diary studies, in-depth interviews and exploratory workshops were held across three continents and hundreds of customers, users and staff.
The insights resulting from this work were the foundation of an extensive future product and service roadmap to underpin future development activity at CoolSculpting.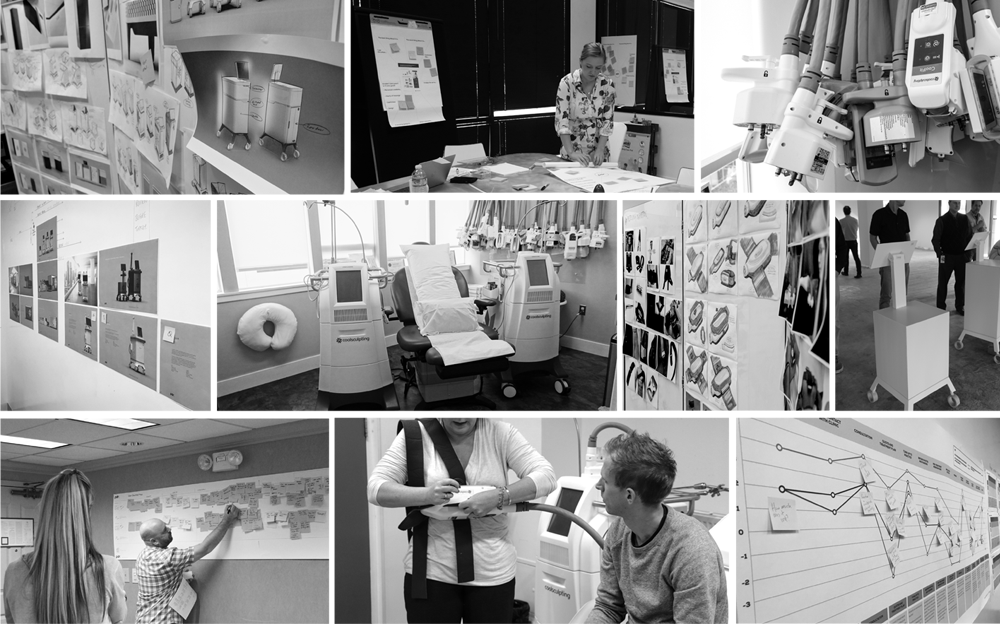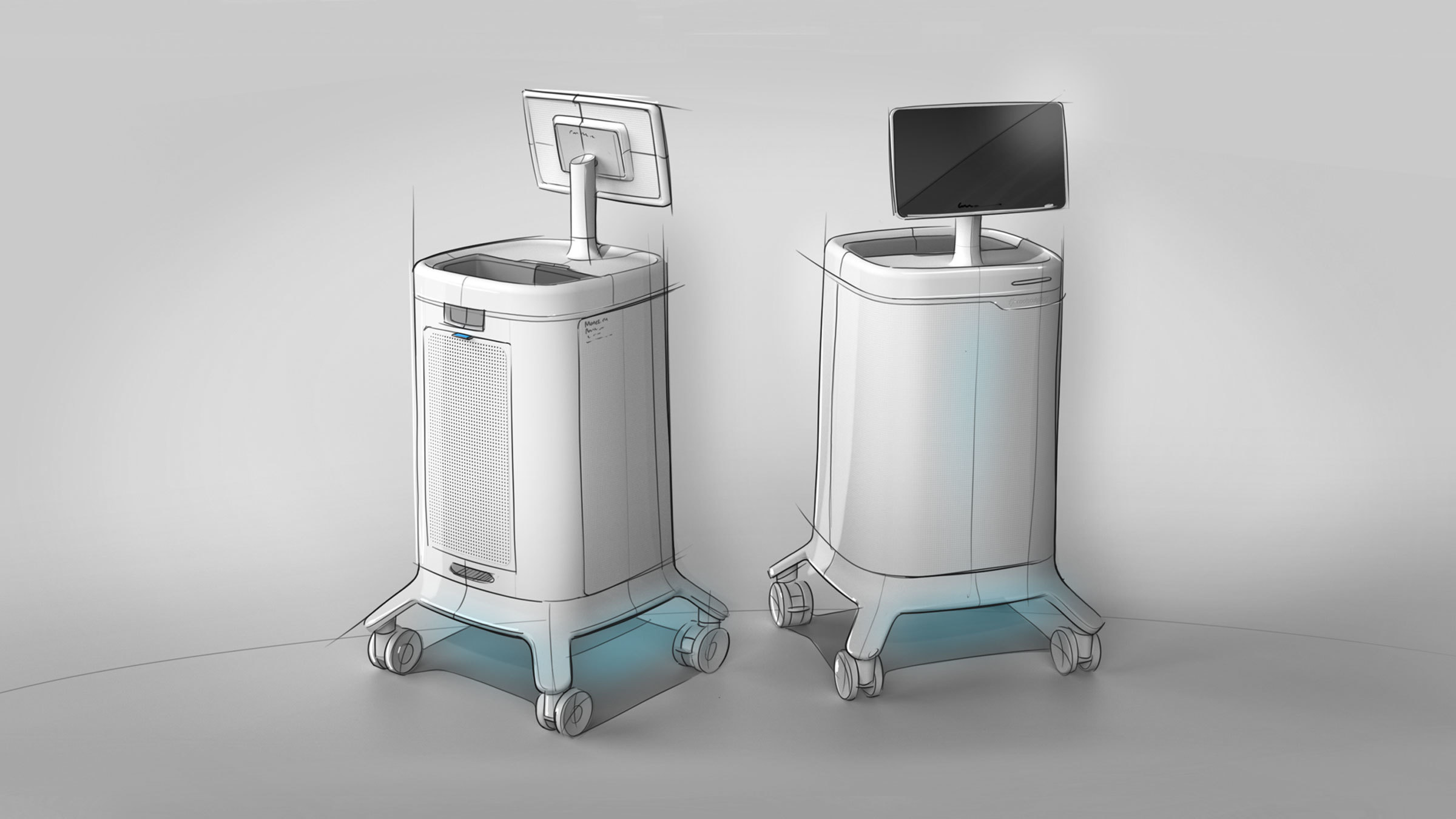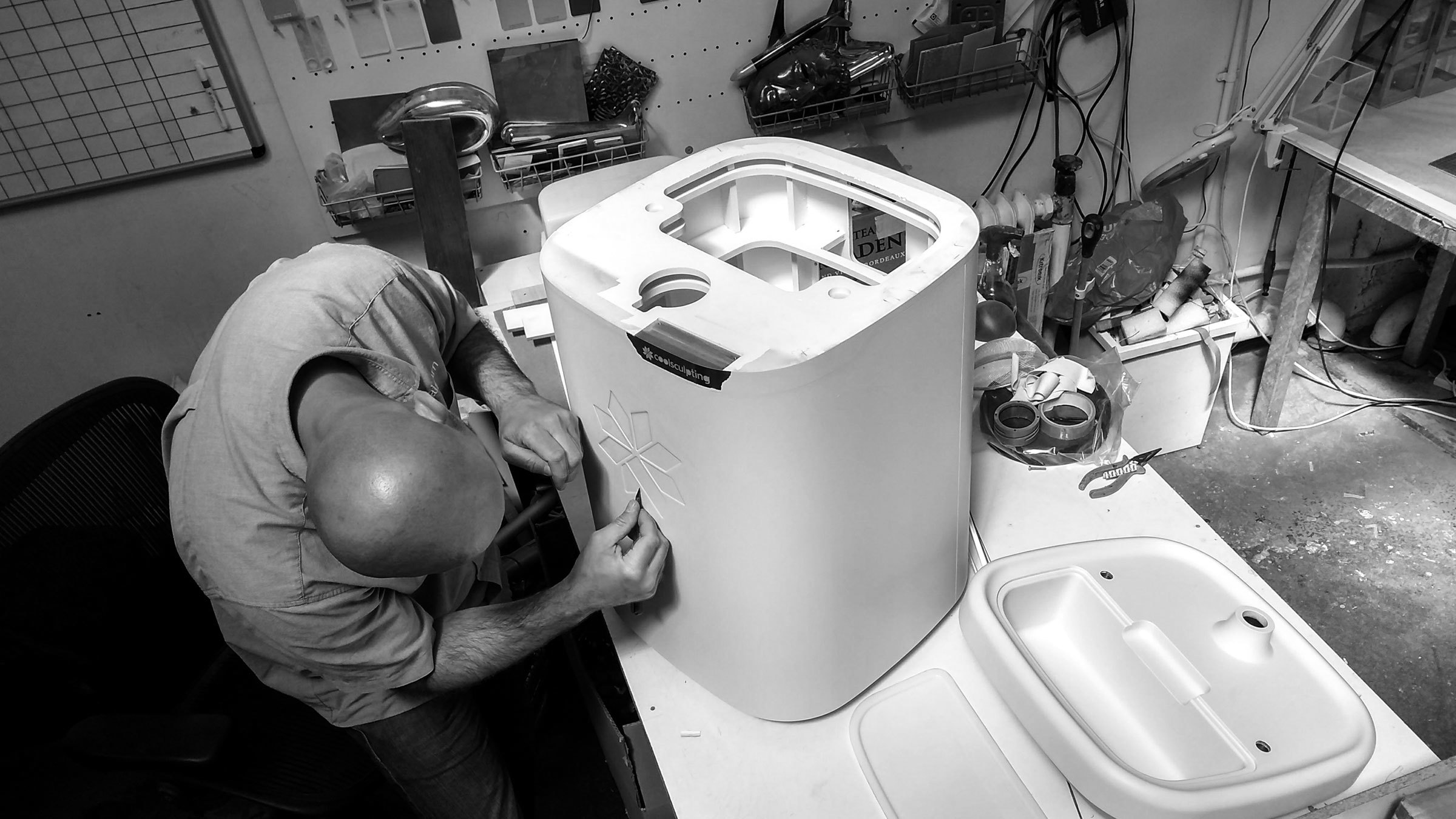 Based on this foundation and connection with users, design work began with a clear perspective on a broad range of developments and innovations for a new CoolSculpting system.
Working closely with the in-house teams in California conceptual design work quickly progressed. A new design language for a new range of products was explored alongside extensive use of low fidelity prototypes and models that allowed a broad spectrum of stakeholders to engage and contribute to the design process and the minimisation of risk.
This rapid development and the use of prototyping and mock-ups simulated functionality, interactions and behaviour and was essential to the smooth global collaboration of multidisciplinary teams necessary for successful development.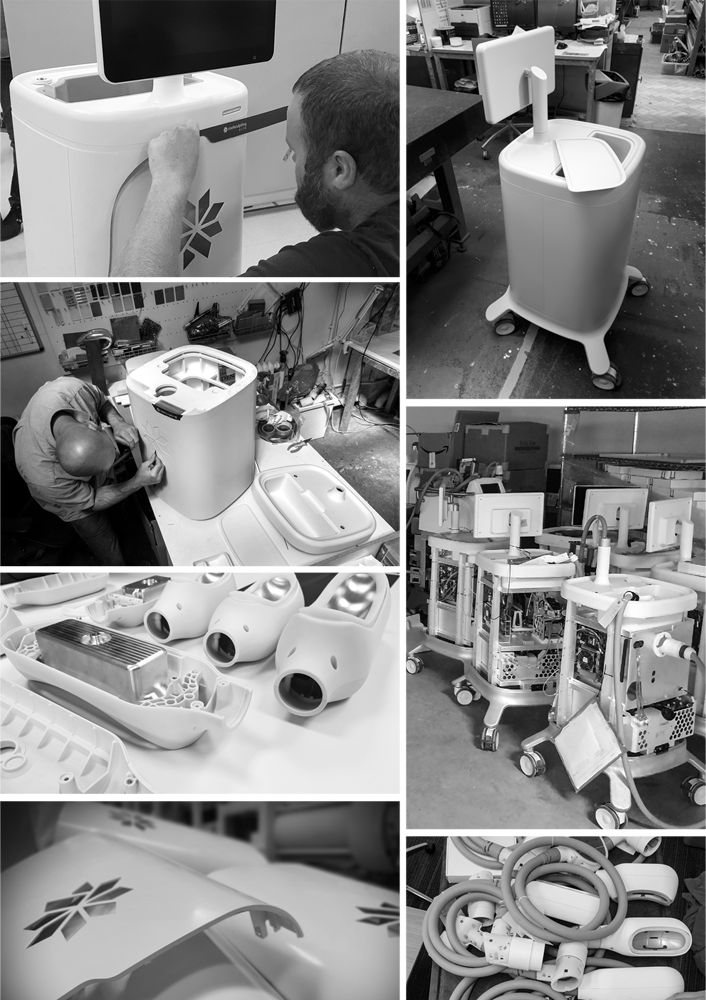 The purchase of CoolSculpting by the world leading aesthetics medicine pharmaceutical company signalled the movement in to medical and combination devices. It was essential that the design and execution of the CoolSculpting Elite reflected not only its industry leading position but also the rigour, scientific credibility and reliability inherent within the extremely well-known parent company.
Extensive work was undertaken to define the unique values within CoolSculpting and its relationship and representation within their larger pharmaceutical company umbrella. These core values of Leading, Brave, Effective, Quality and Personal formed the foundations of a set of principles that not only drove the design aesthetic and language of the physical product but permeated throughout the interaction and UX design, the broader service offer and language of the product.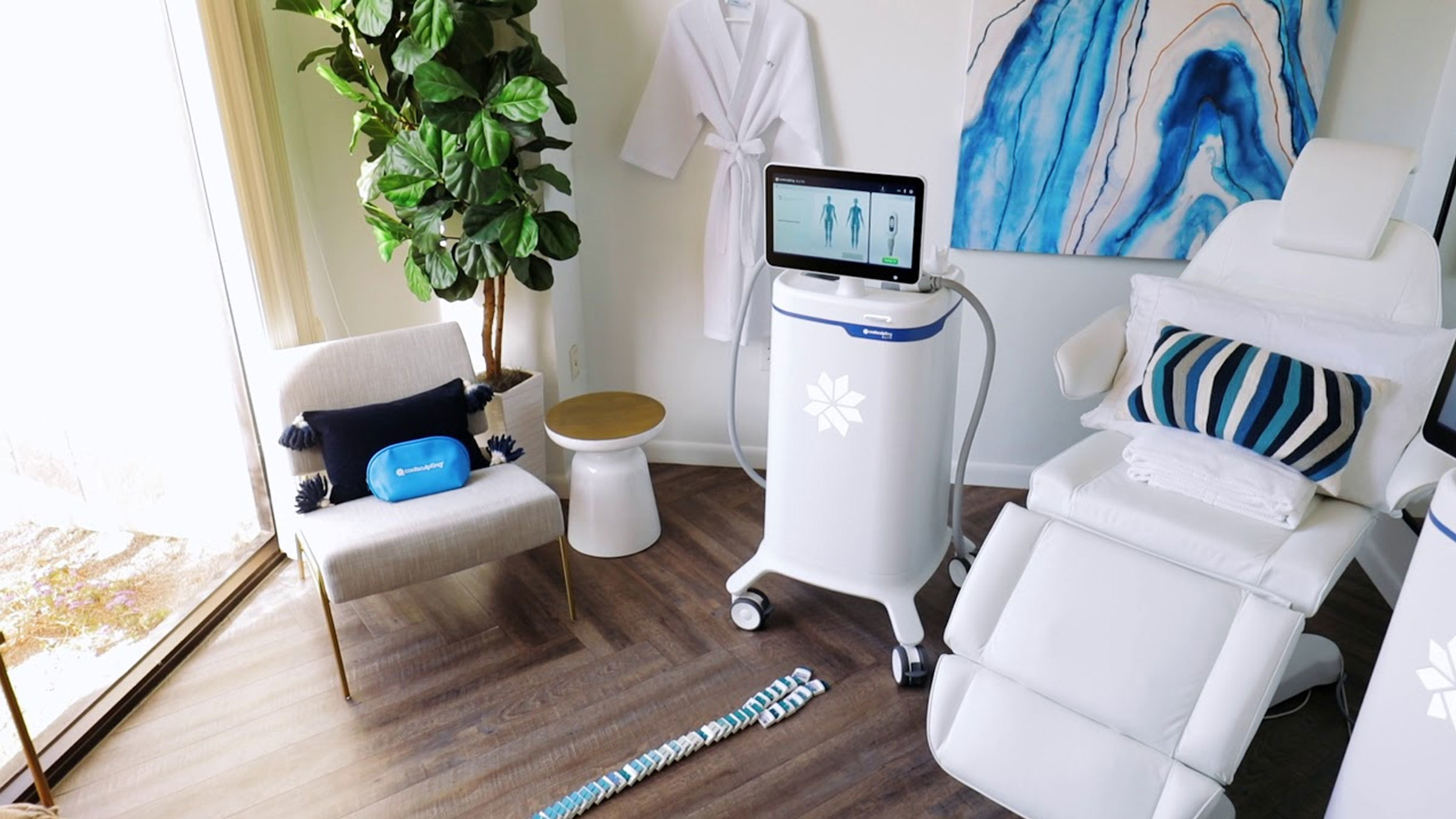 PATIENT EXPERIENCE.
CoolSculpting Elite operates in aesthetic practices and clinics globally and needs to reflect the scientific rigour, focus on efficacy and quality the brand is known for. It needed to achieve this in a way that does not alienate or distance patients and clinicians from an elective experience that at its very heart is designed to help build confidence and self-worth.
The patient experience must remain at the core of the product. In a market where there remain a number of questionable and spurious and unsubstantiated claims of effectiveness, patient confidence and understanding of the genuine quality, science and efficacy of the Coolsculpting Elite was a key objective in an easily identified aesthetic that could translate across a number of planned future products.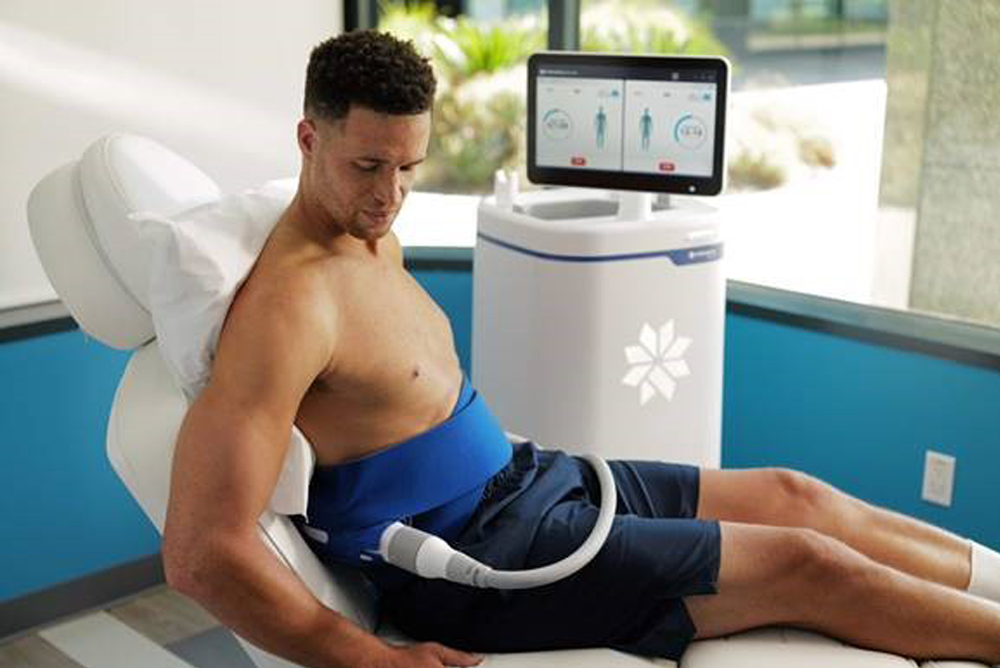 DELIGHTFUL, FRICTION FREE INTERACTIONS.
Designed to fit within aesthetic clinics globally the small footprint and high mobility ties into a system that carefully maps and supports the patient and operator journey from set up through to cleaning. The design features a number of key design signatures that easily identify and reinforce the product brand position and stable.
Features including the backlit snowflake, Bluetooth call button and large display ensure patient and customer needs stay at the heart of the design and experience whilst providing the instant recognition and detail that work across a range of aesthetic medicine technologies.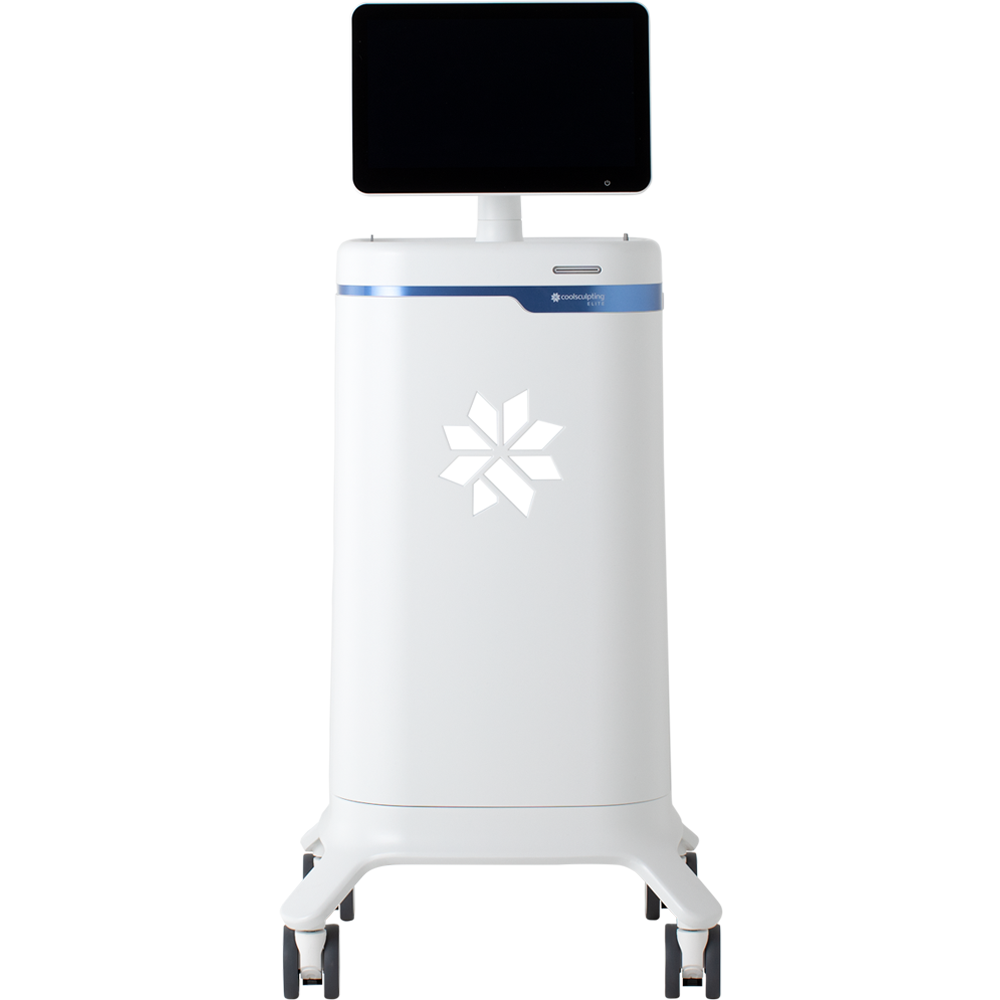 QUALITY DRIVEN PERFORMANCE.
A key design objective was the creation of a platform for long term, regular and reliable use along with a modularity to allow rapid repair and minimum downtime. This targets not only functionality and customer return but minimises environmental impact.
This design for long term, reliable use and return to company recycling at end of life sits alongside a revision of ancillary and supporting materials often overlooked from an environmental impact perspective.