SMART Suite
Welsh Government
Following the strategy 'Innovation Wales', the Innovation Team within the Welsh Government set out to develop a new comprehensive range of support instruments in order to realise the ambitions of the strategy.
Innovation unit is responsible for providing assistance and funding for research, development and innovation to Welsh businesses and research organisations. They created a set of mechanisms called SMART Suite that includes support programmes for awareness-raising (SMARTInnovation), R&D&I commercialisation through research-industry collaborations (SMARTExpertise) and financial incentives for investment in R&D&I (SMARTCymru).

To ensure the best results for beneficiaries, the team, assisted by PDR, applied service design approach to create a simple, well-communicated process that provides a high-quality customer experience across the whole range of support instruments.
The project aimed not only at applying a user-centred approach to better understand the customer point of view and develop an easy to use process and consistent experience of engaging with the business innovation support programmes, but also to transfer the capacity for design thinking to the Welsh Government and enable its staff to use design thinking methods independently.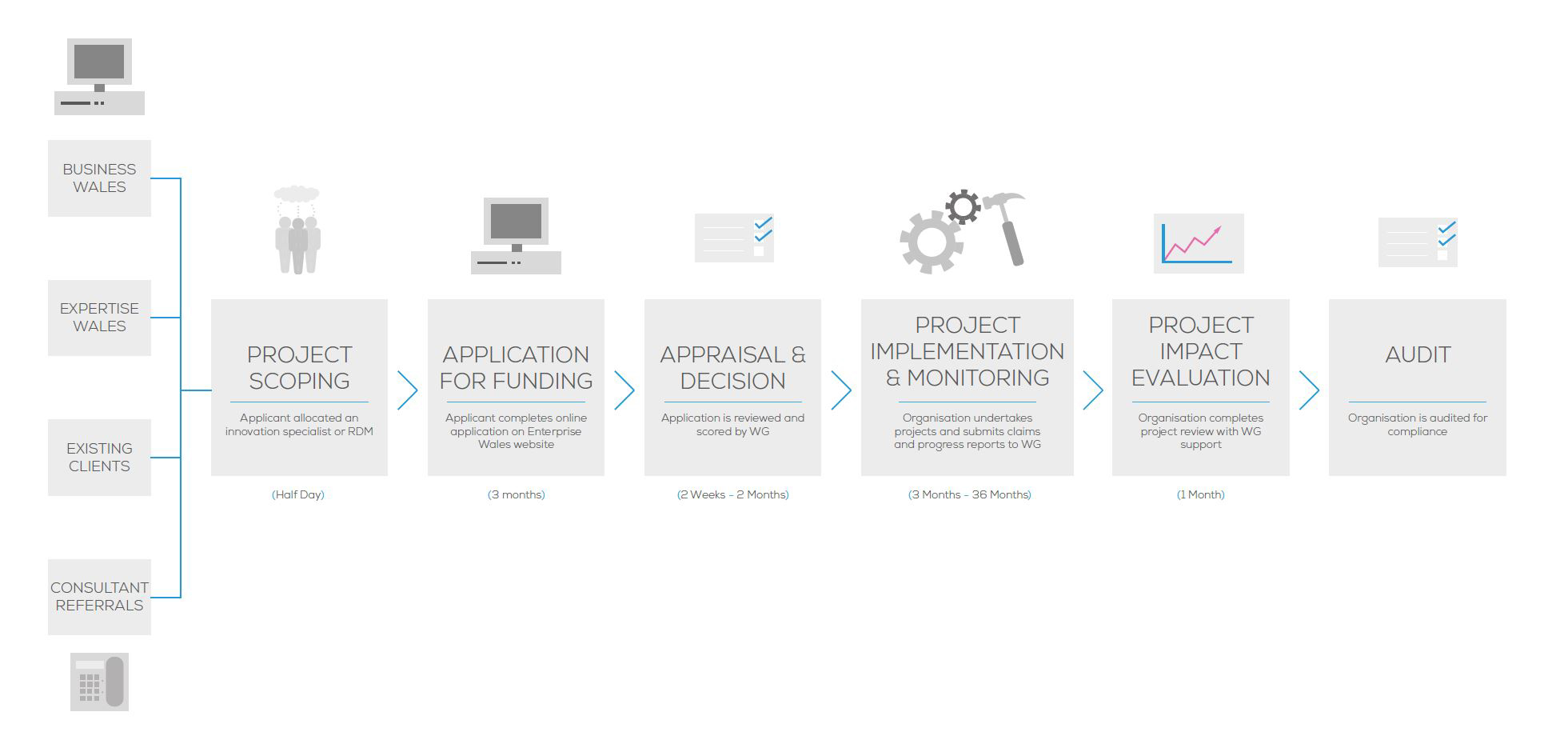 Therefore, PDR developed a package of tools, guidance, and framework for the WG managers who took part in the initial two-day, immersive design thinking training workshop to replicate the process in all the teams working on different stages of the SMART Suite programmes life cycle (pre-application, appraisal, monitoring, and post-completion). PDR experts provided mentoring and support to the senior project leads to run the workshops independently.

After a series of mapping and ideation workshops in six separate WG teams, PDR facilitated a workshop that brought the whole SMART Suite team together (40 staff from pre-application, appraisal, monitoring and post-completion). In that workshop, they were challenged to follow the whole process of accessing innovation support as a specific persona to identify key issues about consistency and user-friendliness. This proved particularly effective in identifying new documentation or information that affected the user experience. Each team proposed three concrete actions to improve the customer experience and committed to undertake these as a result of the workshop.
I'm proud of what our Innovation Team has achieved, not only embracing the service design approach during the exercise we undertook with PDR, but also implementing the process to other areas of work. Our service design work continues within the team and will be reviewed with senior managers to ensure our key principles are evident and to evaluate our service design approach.

Julie Cunnington-Hill | Development Manager, Innovation Team | Welsh Government