The CoolSculpting Experience
Allergan
CoolSculpting® is a leading non-invasive fat-reduction treatment, helping people feel more confident with their bodies.
Coolsculpting approached us to:
1: Maintain their rapid growth in the USA and overseas
2. Increase patient satisfaction across the whole treatment experience
To respond to Coolsculpting's challenges, we developed a research plan to understand business objectives across different stakeholders and capture current patient and clinician experience. This then enabled us to identify product and service opportunities to improve the experience and meet business goals.
UNDERSTANDING BUSINESS & INTERNATIONAL MARKETS
An international understanding of the business was essential to identify the different markets around the globe. Our key research aims were to identify how the business operated in the area and what the unique market challenges were. Our approach included attending full clinician training, and collaborative research workshops with executive and sales staff in different countries. Through this, we gathered the market intelligence to paint a picture of what the perception of Coolsculpting is at HQ vs. how it is experienced by staff in the field.

UNDERSTANDING THE CUSTOMER EXPERIENCE
Coolsculpting has two core customer groups, clinicians that purchase the device and deliver the treatments, and patients that receive the treatments. Contextual inquiry in clinics across the globe identified the treatment stages patients go through, the environments the products are operated in, and the approaches and priorities of different clinicians. We mapped the experiences of each customer group's interactions with Coolsculpting and combined this data with remote patient interviews and survey results to identify key insights around the Coolsculpting experience.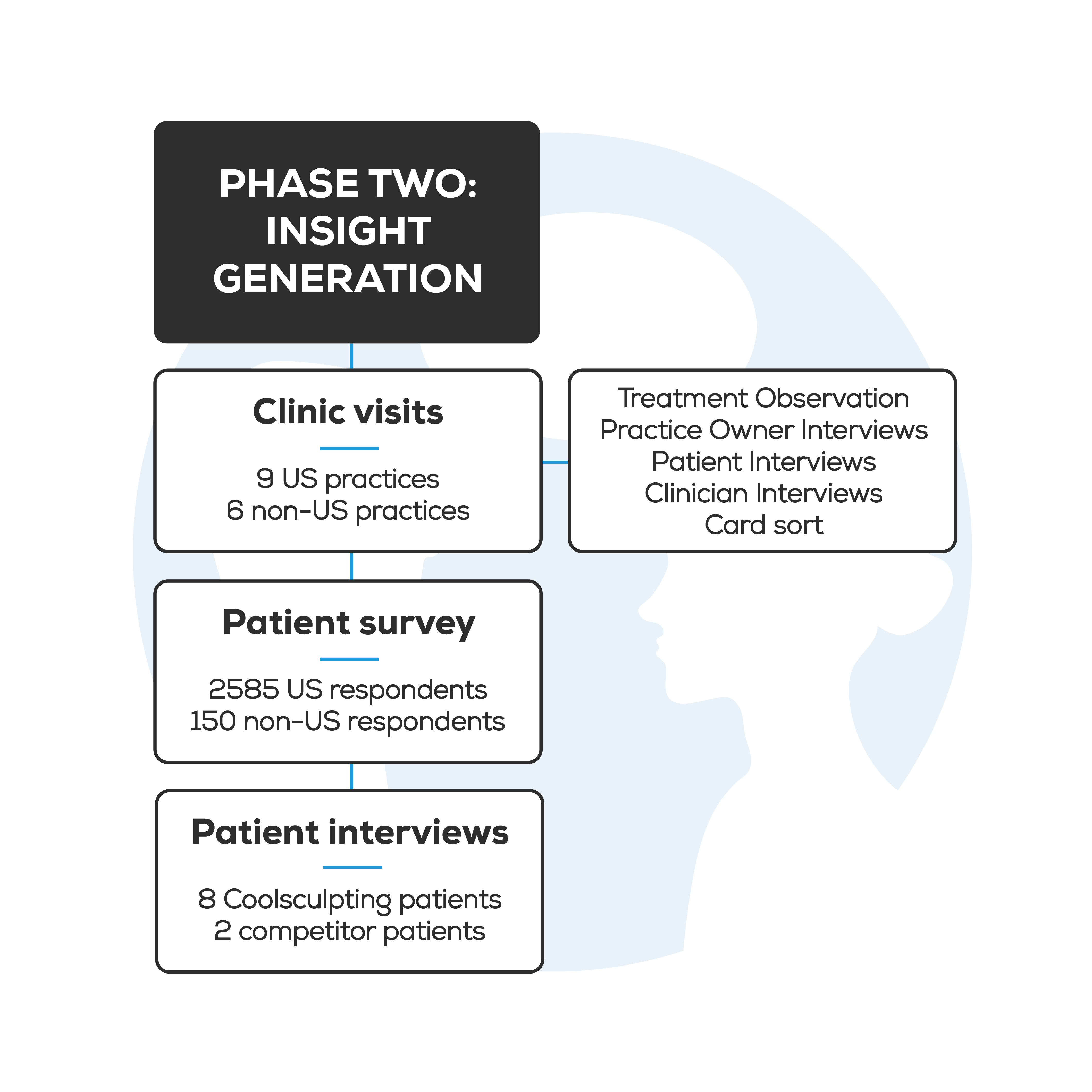 PRODUCT AND SERVICE INNOVATION
From the research outcomes, we identified the opportunities for both incremental and transformational responses to enhance the Coolsculpting experience. Our multidisciplinary design team formed new business, product and service opportunities in collaboration with the Coolsculpting team. These then populated an innovation roadmap to revolutionise the service and product design of the Coolsculpting range and AbbVie, their parent company's wider portfolio.
An example of this work is the Cooltone device which incorporates the new design language developed by PDR.