Water Bottle
Brecon Carreg
Mineral Water Bottle Design for one of the largest providers of bottled water in the UK.
Nestled in the beautiful Brecon Beacons National Park is the protected source of Brecon Carreg's natural mineral water. The outstandingly pure natural mineral water begins life as rain falling on the hills and valleys of Wales. It takes an incredible 15 years to filter through solid layers of limestone rock before finally making its way to the where the company bottles around 48million litres a year at source.

We were approached by Brecon Carreg to design a new injection blow moulded bottle specifically aimed at children to encourage greater water consumption and offer a healthier choice to more processed and sweetened drinks available.
The withdrawal of carbonated soft drinks in UK schools and an overall decline of carbonates in the UK has seen 'healthier' beverage categories, such as water, gain acceptance from schools as well as parents. There is growing recognition amongst professionals that hyperactivity, poor behaviour and reduced concentration levels may be linked to sugary drinks and those containing caffeine or other additives. The current wave of news regarding obesity levels causing diabetes problems even in younger people also strengthens the argument for giving the nation's children a healthier start in life.
The design needed to be suitable for the high-speed bottling and production facility at Brecon Carreg, appropriate for efficient distribution and logistics and was aimed at both major supermarket retailers as well as smaller outlets. A single 300ml bottle was envisaged provided in both 6 bottle retail packs and 30 bottle wholesale packs for individual sales.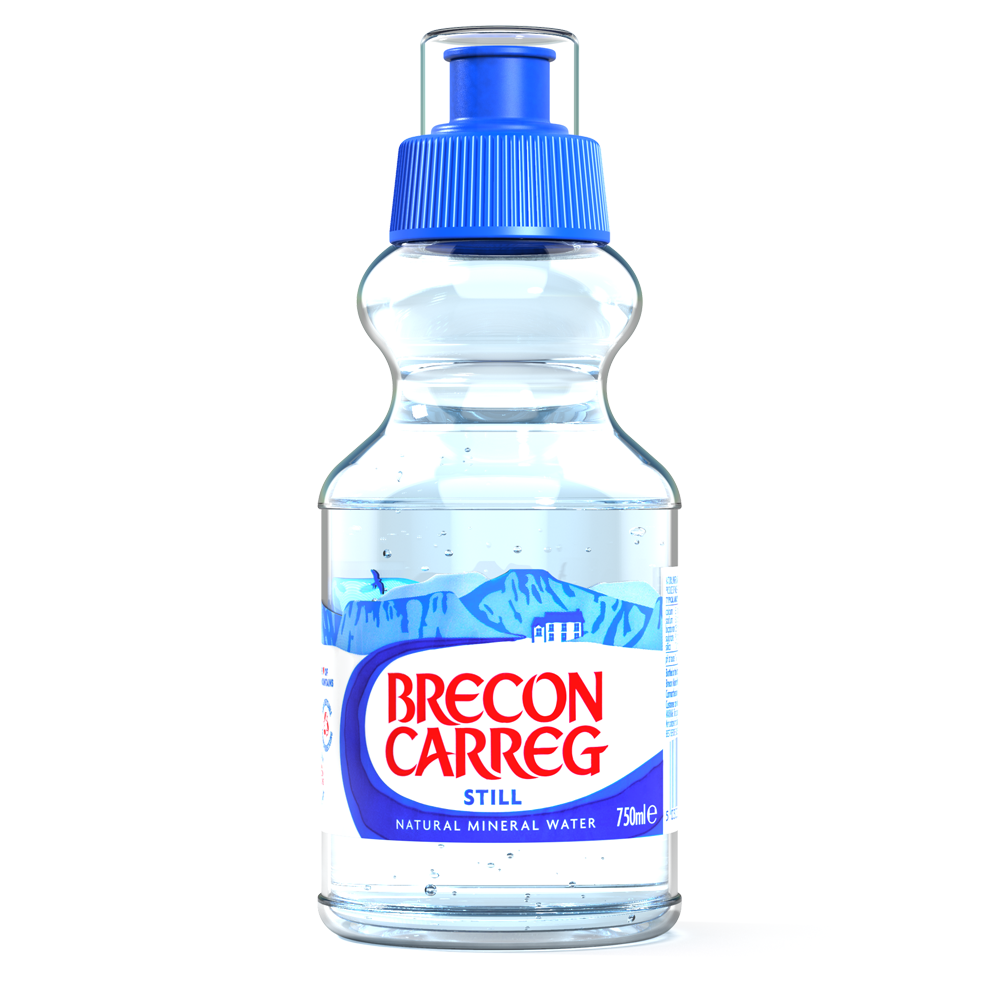 After initial concept design work a design was selected and Brecon Carreg for Kids was launched later that year. An initial pilot proved so popular with parents in the brand's Welsh heartland that it was rolled out across the UK.
Brecon Carreg is a trusted, wholesome brand for active families. So it was a logical extension of our positioning to launch a product for children aged 5-11. The vibrant and eye-catching design will speak to this age-group and the active, outdoor activities pictured on-pack will also appeal to parents – especially those who like spending time with their children outdoors.

Liz Sherry | General Manager | Brecon Carreg, explains the rationale for the launch