PDR attends Fuorisalone 2023
This April, the PDR team returned to Milan for Fuorisalone 2023, one of the most highly anticipated events in the design industry which draws in designers and brands from all over the world. This year's theme was "Laboratorio Futuro" (Future Lab), which placed a focus on sustainable and circular design. As usual, the show was full of innovative products and installations, from which we are excited to share our highlights along with the trends that we spotted.
Multisensory Experiences

Multisensory experiences were a major focus for brands and designers displaying at Milan Design Week this year. Notably Moooi, Google and Occhio considered the spectrum of sensory experience that the viewer encounters, presenting their collections in imaginative new ways and curating unique experiences. 
Dutch interiors brand Moooi collaborated with fragrance brand EveryHuman to present AI-generated personalised room fragrances. In a process that EveryHuman describes as "algorithmic perfumery", the user is invited to answer a series of questions that are used to calculate a personalised scent profile using AI. This information is then sent to a "fragrance printer" that mixes a personalised formula. EveryHuman's mission is to allow the user to become the designer of their own experiences, enabling the fragrance to become about who they are rather than the brand. This collaboration between person and machine allows for new levels of customisation and the chance for users to tailor products to match their unique identity.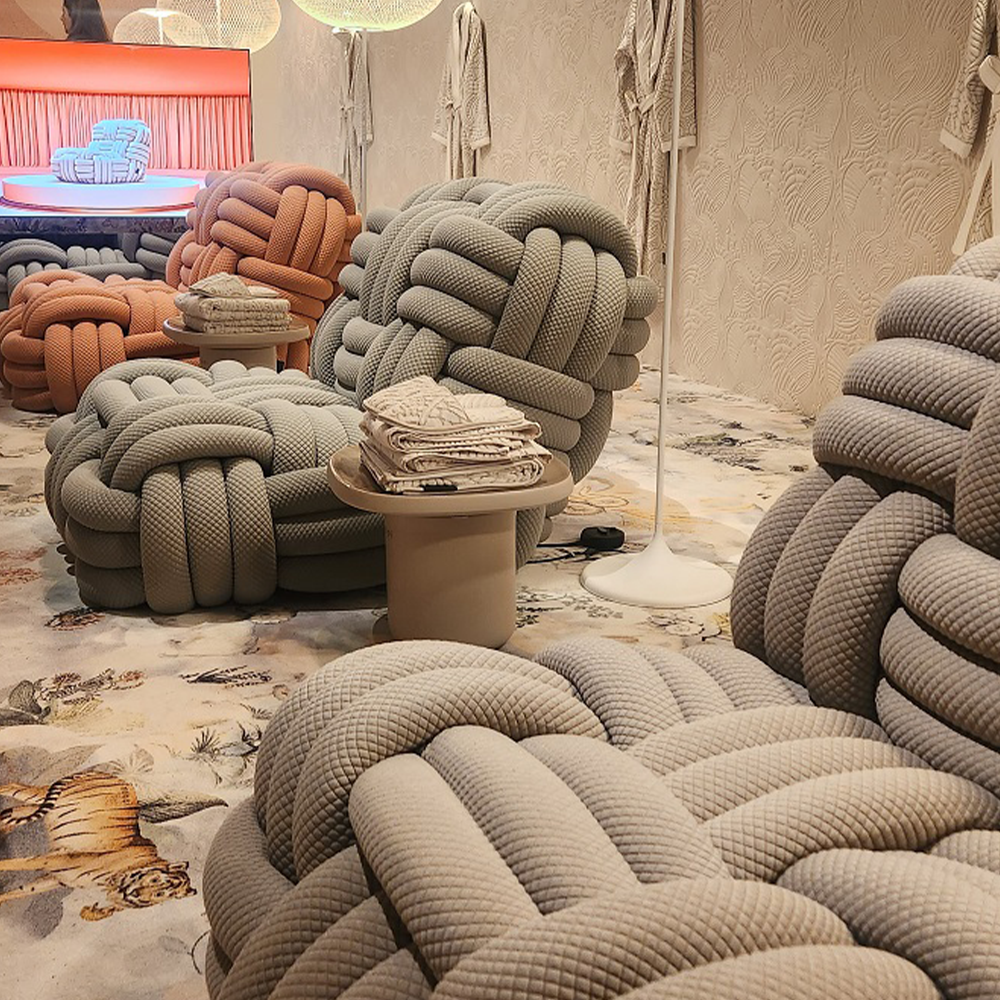 In collaboration with LG, Moooi debuted a range of products that fuse tech with an interior design sensibility. This included a range of "Lifestyle Screens" that are designed to blend in with any style of home interior, as well as LG XBoom 360s adorned with Moooi's maximalist prints. 
Google presented "Shaped by Water"; a multisensory experience inspired by a single drop of water. In collaboration with the artist Lachlan Turczan, the Google hardware team explored the "hidden qualities of water" through a sequence of interactive installations. The first space was composed of a series of basins filled with water that ripples and dances because of inaudible frequencies passing through the basin.  
In the second space, titled "Weavespace," a basin is fitted with an optic lens that reflects the rippling water onto an overhead screen. The viewer is invited to recline on a sofa that encircles the piece, allowing them to view the dancing water as it responds to a 10-minute blend of classical and electronic music. 
Finally, the Google hardware team presented a series of surface tension experiments that informed the shape of the Pixel, Pixel Watch and Wi-Fi Pro. As the viewer moves through the space, they can view Google's hardware collection which looks to nature to shape a fresh palette of delicate pinks, vivid greens and dusty blues.
Both Google and Moooi reimagined tech products as decorative focal points. Utilising colour, pattern, and form to create desirable objects that are designed to be displayed as centre pieces in the home.
The Future of Mobility
Automotive brands, Audi and BMW, looked to the future of mobility, considering cars not only as a means of transportation but as living spaces. As autonomous vehicles become more advanced the way we interact with cars will change and what we require from automotive interiors will adapt. 
Audi presented its "House of Progress" which featured an instillation conceived by Gabriele Chiave titled the "Domino Act." The piece consists of twenty-two mirrored monoliths in a circular formation to represent the principles of circular design. At the heart of the circle Audi presented Skysphere, a concept car that looks to redefine premium mobility. This novel approach considers the interaction between the driver and the vehicle as ever evolving and expanding. Skysphere has been designed to adapt to the needs of the user, creating new context for the vehicle. The interior of the vehicle is crafted to feel like you are sitting in a luxury lounge rather than a car, taking design cues from the Art Deco movement, particularly the use of geometric shapes and sleek forms.
BMW presented "A Creative's Journey", an exhibition that guides the viewer through the creative process and invites participation. A collection of new ideas were presented, including innovative textiles with 3D printed embellishment and conceptual exterior designs. The centre of the exhibition is a hybrid experience, both physical and digital, that aims to blur the boundaries between tech and art. A scaled vehicle model becomes the canvas for a vibrant lighting display, representing the differing personas of passengers and drivers. 
Man-centric design approach was at the heart of BMW's presentation. One of the exhibition highlights was a concept dubbed "The Box", which considers how mobility could be used to give back to society. What if a vehicle, when not in use, becomes furniture or a piece of sculptural street art? As autonomous vehicle technology advances our interaction with vehicles will evolve, transcending transportation and the current driving experience.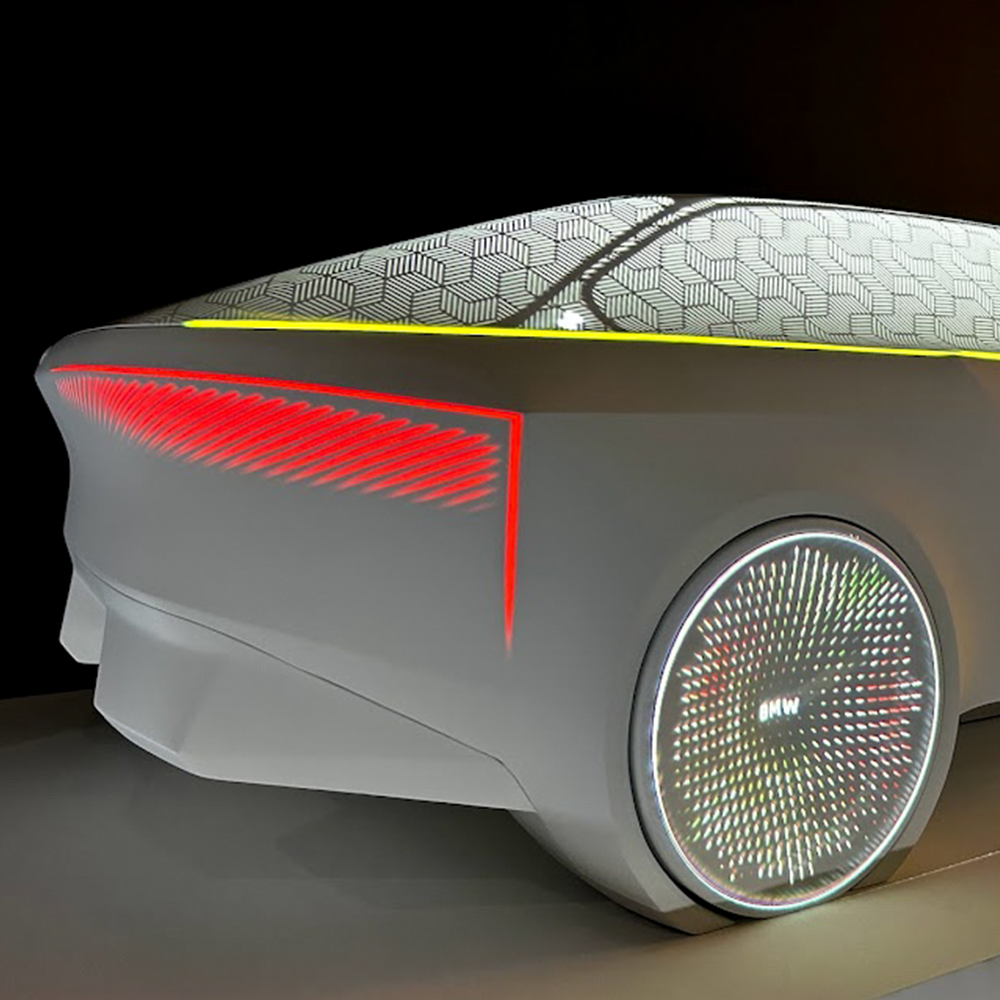 Fuorisalone 2023 highlighted a range of innovative and sustainably minded designs, with multisensory experiences standing out as a key trend. The exhibitions we saw were inspiring and thought-provoking, leaving us excited about the future of design and how their insights will influence future projects at PDR. 

Next Steps
Discover more about PDR or get in touch if you're interested in working with us.